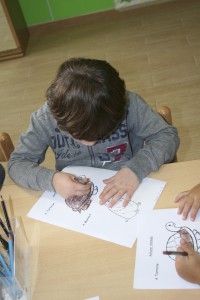 Preschool represents an important educational stage in which children explore their learning capacities and gradually reinforce their self-confidence. At this age we follow these three principal and general objectives:
Development and exploration of self-identity, focusing on body, intellect and psychodynamics;
Acquisition of autonomy in various contexts;
Development and exploration of sensory, motor, linguistic, perceptual, and intellectual skills;
These objectives fall within both the Early Years Foundation Stage guidelines (English national curriculum) and, also, the so-called "experience fields" mandated by the Italian Ministry of Public Education, which are:
– Development of self and others (big questions, morality, and living together)
– Body movement (identity, autonomy, and health)
– Language, creativity, expression (gestural expressiveness, art, music, and multi-media)
– Discussion and words (communication, language, and culture)
– Understanding of the world (order, size, space, time, and nature)
Our preschool, like our nursery, focuses on exploratory labs as a foundation for sharing, allowing for learning through exchange, communication and play. Some of these are: drawing and painting, collage, reading and drama, dance and psychomotor skills, multimedia, music, logic, environmental education, and fine motor skills.  All of these labs are age appropriate and occur in every group.
Our educational programme includes a bilingual scope in which a mother-tongue English teacher collaborates with the other preschool teachers, following the general didactic work and coordinating various activities in symbiosis.  In this way, children are in direct and continuous contact with the English language, providing kids with a solid understanding of the English language. This will allow them to forge ahead in their primary school English studies.
Our Daily Routine
| | |
| --- | --- |
| 07.30 – 09.30 | Welcome time! free play activities & tidy up |
| 09.30 – 09.45 | Snack time with fresh fruit |
| 09.45- 11.45 | The children are divided into groups and make two different activities according to the weekly program. Then, the play in the classroom or outside in the garden. |
| 12.00 – 12.30 | Lunch time and hygiene |
| 13.00 – 13.30 | 1st Exit |
| 13.30 – 15.00 | Sleeping time/ story or free drawing for the older ones |
| 15.00 – 15.30 | Afternoon activities / 2nd Exit |
| 15.45 – 16.00 | Snack time! |
| 16.00- 18.00 | Story/Drama/Multimedia Lab or other activities – 3rd Exit |
| | |